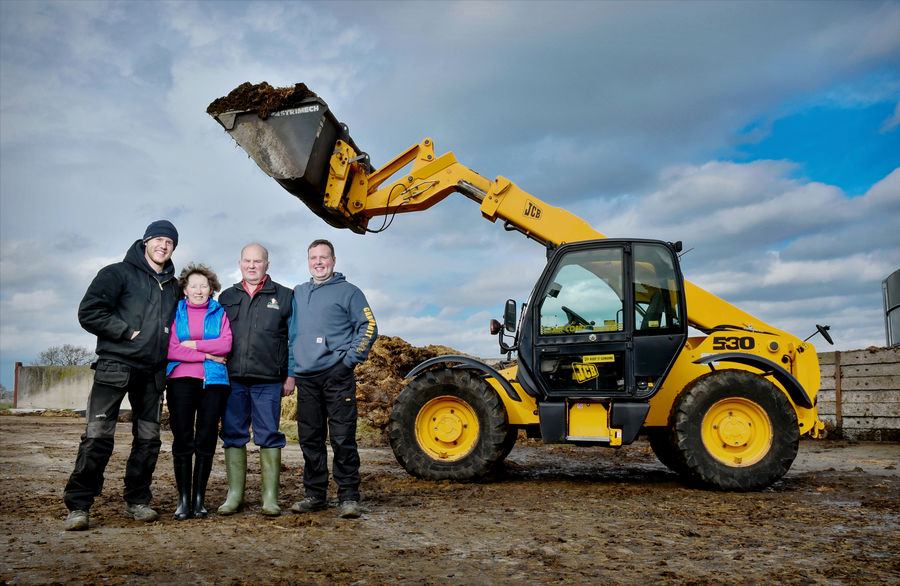 20-Year old JCB loadall runs just as well now as when new
27 Jan 2020
A Cheshire dairy farmer has hailed the incredible longevity of a JCB Loadall telescopic handler after it recently clocked up 20 years and 21,000 hours of trouble-free service.
Alan and Caroline Oakes took on the tenancy of Stublach Farm, between Middlewich and Holmes Chapel, as a 100-acre unit in 1979. They have since expanded to approximately 500 acres rented and 60 acres owned, and run the business with their eldest son Anthony, and with occasional help from his brothers Matt and Dan.
Originally, all loading and handling work was carried out by a tractor and front-end loader – as was the case on the majority of farms until the telescopic handler introduced by JCB more than 40 years ago brought about a revolution in agricultural materials handling.
In 1999, Alan and Caroline Oakes purchased their first Loadall – a JCB 530-70 – and 20 years later the machine is still carrying out general farm duties including feeding, loading muck spreaders, bale carting and in recent years building works.
As the pioneer of the telehandler concept, JCB was well established in the agricultural sector when the Oakes family were looking for their new machine.
Choosing JCB at the time was a simple decision. It was a leading brand with superb build quality and a great overall package, but even recognising the quality manufacture, we never dreamt it would still be performing so well 20 years later.
Anthony Oakes
Anthony Oakes continued to say; "This JCB is a prime example of what can be achieved when you buy brilliant machinery and look after it properly," he adds. "Despite 21,000 hours of productive work and loyal service, it still runs as well as the day it was bought."
Anthony has finally taken the decision to sell the Loadall 530-70 because the installation of an automatic feeding system and fewer building works has reduced the workload.
But a dedicated materials handling machine with the versatility of a telescopic boom will still be used on the farm as the Loadall's duties will be taken over by another JCB – a TM310S telescopic wheeled loader bought new in 2010 that is still going strong after 11,500 hours of work.